Main wash
A wash with experience –
and with highly effective foams.
With AUWA, some 50 plus years' experience go into your main wash. For every quality of water, we know which combination of detergent substances achieve the best cleaning results and we know the conditions under which these substances optimise advanced washing facilities. AUWA products for the main wash are perfectly tuned to each other and ensure maximum cleaning performance – without placing an unnecessary burden on the material or wash water. Take advantage of our expertise and use AUWA active foams and shampoos to achieve first-class washing results in a gentle and effective way. Perfect for use without restrictions in all water conditioning systems available on the market.

Active foams for optimum cleaning performance.
AUWA active foams ensure a gentle main wash for all qualities of water, excel with their efficient cleaning action and can magically blanket vehicles in foam at the operator's discretion. Detergent substances effectively cut through even the toughest of dirt, surrounding the particles, thereby allowing them to be lifted off with ease. Suitable for use in all water conditioning systems on the market.
Highly concentrated shampoos, economical in use.
Brush shampoos have two tasks: to wash cars and to keep the washing material clean. All the shampoos from AUWA fulfil both requirements with ease. They ensure excellent washing results and are suitable for use without restrictions for all the washing materials on the market. AUWA Shampoos are biodegradable, suitable for all qualities of water and economical in use.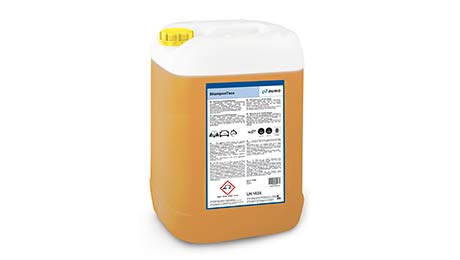 ShampooTecs* – the best performance shampoo:
Shampoo, active foam and pre-cleaner in one.
Highly alkaline Special shampoo for outstanding cleaning results
Reliably keeps all washing materials clean
Optimum foaming helps our care products produce a high gloss finish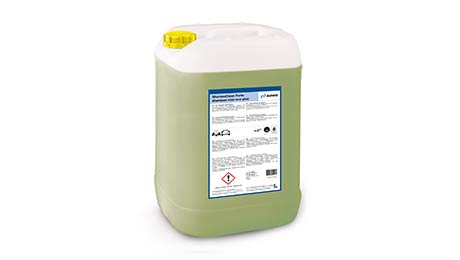 ShampoClean Forte*:
One gleaming performance after the other.
Alkaline shampoo for automatic car washing
Powerful cleaning action for all water qualities
PowerFlower fragrance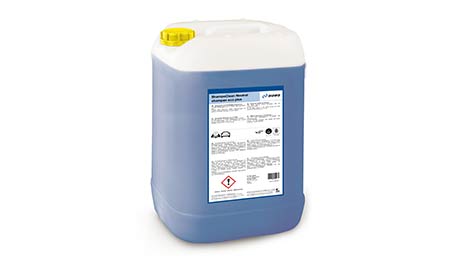 ShampoClean Neutral*:
Highly compatible for automatic textile and brush washing.
pH-neutral shampoo for automatic car washing
Effective cleaning performance
Good material compatibility
PowerFlower fragrance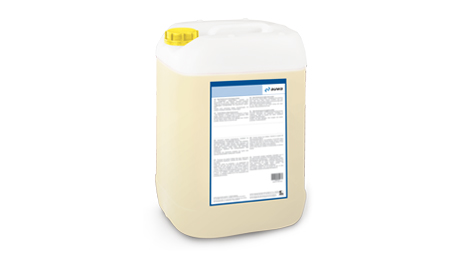 ShampoClean Forte Plus*:
The specialist - effectively removes limescale and rust.
Acidic special car shampoo
Removes iron and limescale deposits from washing materials, bay and installation
For automatic textile and brush washing and manual bay and installation cleaning
Regulates the pH-value in the wash water, creates the basis for optimum drying results
ShampooClean Special*:
Special shampoo for automatic vehicle washing.
Alkaline, highly effective shampoo, optimises the wash water quality
Excellent foaming and cleaning action
Outstanding material and hardness compatibility
Optimises the effectiveness of each physical water conditioning system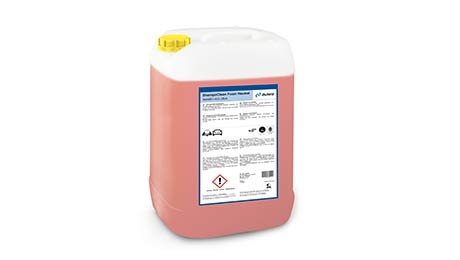 ShampoClean Foam Neutral*:
A clean solution. Also for your car wash.
pH-neutral universal shampoo, specifically for use in self-service car washes
Excellent foaming action
Suitable for all qualities of water and for all types of wash water conditioning systems
*Pictures may differ from the original.